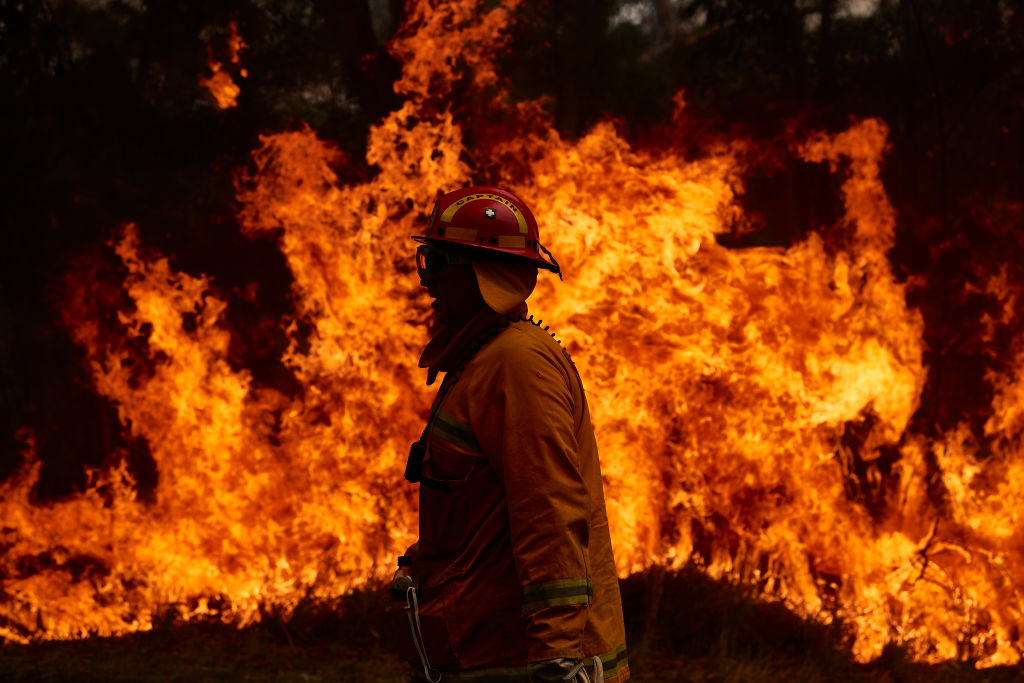 Australia is your future echo of climate catastrophe. Between four and five million hectares have burned in the last six months, an area about the size of the Netherlands, or just between the size of Maryland and West Virginia. Dozens of people have died, hundreds of homes have been lost, and tens of thousands have been forced to evacuate. Half a billion animals have died. Millions of people have been choking on toxic, smoke-filled air covering major cities across the country for months. Late last week, a woman reportedly suffered respiratory distress and choked to death after disembarking a plane in Canberra.This is the just the beginning of the fire season, not the end, and it may well be the new normal for many summers to come. But it could also be the beginning of a shift in climate politics away from cronyism and inaction, towards sustainability.
Scott Morrison Won't Save Us
As the country burns, Conservative prime minister Scott Morrison has done little more than attract the ire of all those suffering the fires and, further afield, the toxic smoke. Last month, as the inferno hit New South Wales (NSW), Morrison set off on holiday to Hawaii; succumbing to pressure and bad media attention, he eventually cut his trip short but pretended to come home days before actually arriving. (The conservative NSW emergency minister only returned from his European jaunt days ago.)
Making matters worse, on New Years Eve the PM hosted a party in Sydney to watch the city's annual fireworks display (which controversially proceeded despite a total fire ban). The following day he hosted a cricket match in his backyard with the national team, and spoke bewilderingly about how Australians facing the catastrophic fires would "be inspired by the great feats of our cricketers."
When he eventually got around to doing what everyone had expected of him — dress in country garb and roll into a fire-ravaged place for a photo op — it did not go well. In Cobargo, residents and firefighters refused to shake his hand. At one point, he was shouted out of town by angry locals, including — in a deeply Australian scene — a woman accompanied by her goat on a lead.
Not just climate inaction but an all-out culture war on environmentalists and their allies, has been a pillar of this government. In November, while the fires raged, the Deputy Prime Minister Michael McCormack dismissed climate change as the concerns of "inner-city raving lunatics." Morrison now maintains that his government has always made the connection between climate change and extreme weather, a claim that sits at odds with multiple statements made by various members of his government.
The Crisis They Wanted
In Australia, the conservative political movement has ignored climate for decades. To this end, they have been largely accommodated by a supplicant media. Routinely the discussion about the climate crisis has been framed as a problem of extremism on both sides, including by key figures at the national broadcaster, the ABC.
Politicians have been permitted to peddle conspiracy theories about environmentalists without being meaningfully held to account. Fire mitigation work has been subjected to funding cuts, and the practical knowledge of traditional Aboriginal approaches to fire and land management — which boast a track record of effectiveness for at least 60,000 years — have been ignored.
In all this, the Australian Labor Party (ALP) has been weak, and at times complicit. Though it formally speaks the language of climate science, and recognizes the damage that man-made climate change has wrought, it simultaneously equivocated on its support of the notorious Adani coal mine in Queensland. If built, the Adani Carmichael mine would be the largest in Australia, slurping up 12 billion liters of water annually to produce coal that, when burned, will generate more emissions than many countries do in a year. In addition to this, the ALP is a supporter of fracking in the Northern Territory, and backs the draconian treatment of climate protestors; it recently, once again, rearticulated its refusal to commit to keeping fossil fuels in the ground.
Anthony Albanese — the latest ALP leader through the revolving door — continues to hold the position that stopping coal mining would simply hurt the Australian economy without reducing global emissions, as the coal would just be extracted elsewhere. This is notably not the line we have previously adopted on mining substances like asbestos and uranium, both of which are subject to limits based on political and moral considerations that would fail his test of applying orthodox supply-and-demand reasoning.
Getting Over Coal
If it has equivocated thus far, the current crisis is a clear opportunity for the ALP to declare a moratorium on coal and gas. The party's latest climate policy package promises to reduce greenhouse gas emissions by 45 percent by 2030 — though this is a significant improvement on the current government target of a 26–28 percent reduction, it really is, according to the Paris Agreement, the absolute minimum necessary to avoid climate catastrophe.
The ALP's policies include good proposals for a transition to renewable energy sources, but the party should go further to include a moratorium on the mining of coal and gas — which would include mining coal and gas for export (the burning of which currently does not count for the purposes of hitting domestic emissions targets). This would need to involve a transition to alternative industries to ensure there are no jobs losses. It seems likely that the cost of these bushfires will easily push into the billions, which reveals the costs of transition for what they really are: chump change in the scheme of things, and the only sensible option available to us.
A meaningful, just transition needs to be imaginative beyond a simple reduction in fossil fuels. One possibility is to prioritize low-carbon infrastructure spending in partnership with state governments. This would prioritize mass transit over the building of new roads, in turn incentivizing a complementary approach to urban planning. Transport is Australia's second-largest source of greenhouse gas emissions (after electricity), and gains made here can act as multipliers by lowering congestion and improving health. It could also involve drawing a stronger link between food and water security (mines often occupy valuable, fertile land in the country's food bowl). Such broad-based proposals avoid bolstering an obsession with coal that is full of distracting false equivalencies and grandstanding, and plays directly into the hands of the Right who have learned all the lessons of Trumpism.
As these fires show, we need a redistributive government agenda to combat the effects of the climate crisis. This includes adequately funding emergency-response and fire-mitigation services — something this government has failed to do. It also involves funding ancillary public programs, such as the national broadcaster. Some of the top brass at the ABC have rightly suffered criticism for contributing to a culture of equivocation on the climate crisis, but at the community level, many committed journalists have provided an essential service for those facing devastating fires. This should not be forgotten at budget time.
It could also involve funding research into mitigation and management of fire risk, including prioritizing Aboriginal knowledge about land management, as well as implementing findings from historical analysis of previous bushfires. It is critical that any such funding is arms-length, long-term, and extensive, and there is plenty of evidence to draw from to make such investments worthwhile.
Doing It Ourselves
It is possible to shift politics in favor of sustainability and against a conservative populism that seeks to paint sensible policy positions as part of a green conspiracy. In recent days, Morrison has bowed to public pressure and cancelled a planned trip to India, where he was expected to discuss our significant coal exports to the subcontinent. This cancellation is the direct result of the sustained pressure being applied from an angry public.
Rumors about Labor abandoning its emissions strategy in the wake of electoral defeat appear to be quietened. Now is the moment to push for the adoption of a moratorium on coal and gas, coupled with an investment in communities that will experience the economic consequences. A just transition with the support of the union movement can help to build a red-green alliance from the grassroots up. Under capitalism, the gains from climate change are privatized while the costs are socialized. We need to find ways to arrest this phenomenon, including by putting pressure on the Labor Party to step up.
Meanwhile, the humanitarian response to these fires has been powered by people, not government. The Country and Rural Fire Authorities operates thanks to a large number of volunteers, and in incredible displays of sacrifice and commitment, it is everyday people who have shown they are prepared to do the things necessary to fight the deadly affects of climate change. These services have been calling for increased funding for years, while critical infrastructure like the National Aerial Firefighting Centre has had its federal funding slashed by more than half since 2003. (In another classic Morrison moment, he opposed making a one-off payment to volunteers, many of whom have been working for weeks over their holidays, only to backtrack shortly thereafter). Thousands of people from all walks of life have participated in fundraising efforts, and a grassroots volunteer rehoming program has popped up almost instantly. None of this make up for inaction by government on climate, and business interests should not be able to use them to rehabilitate their reputation. But such examples are an antidote to the politics of despair,
It's awful to watch human suffering unfold in real time. And it's equally galling to realize that the global population is quickly becoming desensitized to such calamity. But there is change blowing in these hot winds; if we organize it into political action, we can be an example for others — not just of the human cost of the climate crisis, but how it might be overcome.
First published in Jacobin: https://www.jacobinmag.com/2020/01/australia-bushfires-coal-gas-scott-morrison-climate