Tuesday, 4 May 2021
5-6 PM
Register
What does history teach us about our digital future? Can systems which take freedoms, ultimately be accountable and respect human rights?
About this event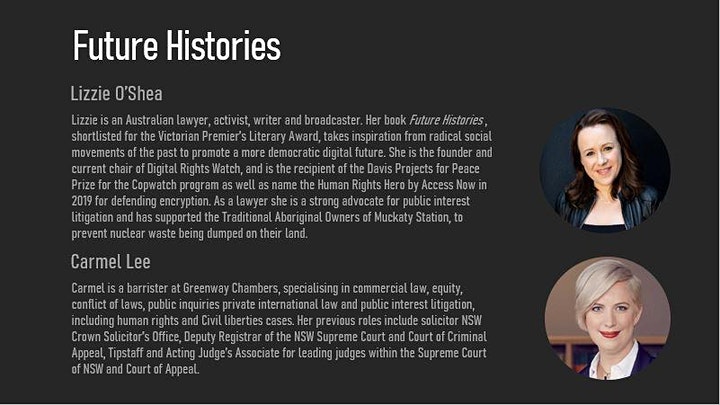 Digital technology has the capacity to create profound changes within society, driven by human ingenuity and cooperation. But is the world that we creating – fair, democratic? Does it promote equality or inequality? Is it sustainable?
You are invited to join the Australian Society for Computers and Law, for a conversation between Lizzie O'Shea, activist, lawyer and writer , and Carmel Lee, Barrister and academic on:
Future Histories
Are we are the tipping point in history? Looking back from the future, would this have been the time to stand up for preservation of the Sustainable Development Goals, for equality, access to justice, equal pay, or have our public and personal (including psychological) spaces been so altered by technology that there is no turning back?
"Technology is presented as a force of nature – but technology is made by human hands"
Lizzie however shows how we can build a sustainable, peaceful and prosperous world through technology as a tool for social good and by looking to history for inspiration.
A highly engaging tour through history in the service of emancipating our digital tomorrow Verso
Future Histories is for all of us—makers, coders, hacktivists, Facebook-users, self-styled Luddites—who find ourselves in a brave new world. Verso
All welcome. This is a ticketed event to be sure to register early to secure your ticket
Subscribe to AUSCL for future events: https://ausclsubscribe.eventbrite.com.au